Everybody just have a good time…
…but what happens when a great night out goes bad! Who is there to care?

Established in 2008, Chelmsford Street Pastors are now a familiar sight on the Chelmsford weekend nightlife scene. They are acknowledged as a force for good, not only by pubbers and clubbers, but also by the police, CCTV authorities and pub/club owners. Local authorities have commented that since the scheme started there has been a significant drop in the level of anti-social behaviour on Friday and Saturday evenings in Chelmsford – source www.chelmsfordstreetpastors.org
And not least, Street Pastors are the eyes, the ears, the hands of feet of Jesus Christ on our City's streets, there to represent Him to those who work in and frequent our very different night time economy.
"Street Pastors is about Christians rolling up their sleeves and getting involved in practically responding to the problems of crime and safety. They are like beacons on our streets and I want to see them shining brightly in every constituency." – David Burrowes, Patron of Ascension Trust, who are behind Street Pastors nationally.
Your Street Pastors need you!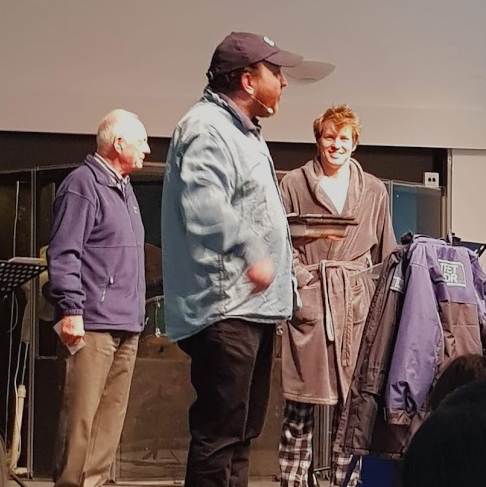 As with many initiatives, lots of people initially become involved, but over time, they leave and 'the few' are left to soldier on.
Chelmsford Street Pastors are looking for new team members from the Christian Community in our City.
On the Street – Why not join them for for any period between 10pm and 4am one Friday or Saturday as an observer? No obligation, just see them in action! We think you will have your eyes opened to their amazing work!
In the Prayer Room – At their base, just off of the City Centre, they have other members of the team who stay and pray. Yet others remain at home, but all on the end of a telephone, to received up to the minute requests for prayer from the Pastors on the street. They would not go out without prayer back-up.
Get in touch now!
You do not need to make a weekly commitment – many of the Street Pastors volunteer just once a month. Age need not be a barrier – the oldest recruit in Chelmsford is in his 80's AND goes out on the street! Full training will of course be given.
Simply email info@chelmsfordstreetpastors.org
As part of the Chelmsford Street Pastor Team, you WILL have a good time, and ensure that other's remember their night out in Chelmsford for really good reasons!