During a recent visit to the Chaplaincy department at Broomfield Hospital, CTiC Chair, David Gilbey, chatted with Lead Chaplain, Tim Blake, about the brilliant work they do and how the Christians of Chelmsford might have closer relations with the work of our Hospital.
Tim requested that CTiC bring two exciting opportunities for volunteering and contributing to the life of the Hospital; its patients, their relatives and staff:
Volunteer Ward Chaplains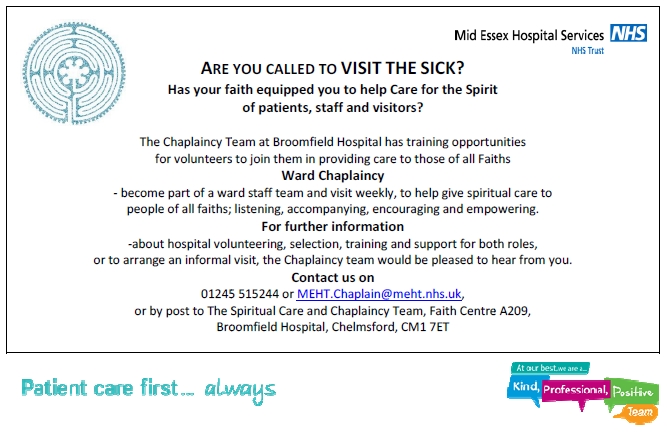 New volunteers are being sought to join the Ward Chaplain Team, with training commencing in February 2019. Could that be you? 
For a Recruitment Pack, which contains full details and an advert that could go into your newsletter, an email circulation to your members, or your website – click here to view and download.
Hospital Foundation Trust Membership
We are also encouraged to shape the future of hospital care in our City and beyond with a Christian perspective and voice.
How hospitals in mid Essex are managed is changing and it is likely that in the near future, Broomfield (also the Hospitals at Braintree and Maldon), will join together with Basildon and Southend Hospitals in a new Foundation Trust.
Read about Foundation Trusts here:  www.wwl.nhs.uk/Library/Foundation_Trust/Foundation_Trust_Guide.pdf
Basildon and Southend Hospitals, which are both Foundation Trusts, currently each have more than 10,000 members. If the merger of the three hospitals goes ahead, a new Foundation Trust covering all three hospitals will be formed.
As the Hospitals of mid Essex have not previously been represented in this way, It will be important for mid Essex residents to be fully represented and so you are being encouraged to join now as a 'Member' of Mid Essex Hospital Trust (MEHT).
Hospital Governors are also elected from Trust members – might you envisage being a Christian voice in this important strategic role?
More information and a link to an online application for membership is here: www.meht.nhs.uk/foundation-trust
If you need any further information about either opportunity, do contact Lead Chaplain at Broomfield Hospital, Tim Blake: email: MEHT.Chaplain@meht.nhs.uk , 01245 515244