CTiC are very pleased to have been introduced to the work of the St Vincent de Paul society, (SVP), which now has two branches in the City, one working predominantly in Springfield and the other covering the rest of Chelmsford.
CTiC Chair, David Gilbey recently met with their Springfield representative. Jenny Clayton, who has produced the below information about the work of SVP locally. Jenny and the wider Chelmsford team are always very happy to welcome new volunteers. Contact details are at the foot of this page.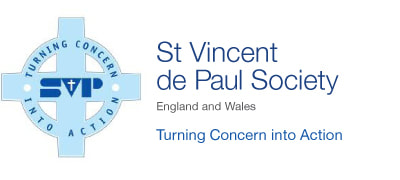 The aim of the SVP is very simply to help those in need.
The concept of need is broader than financial hardship. Thus a fundamental element of our local work is to visit and where necessary support people of any faith and background who are sick, lonely, housebound or simply overwhelmed by any form of need.
We aim to help anyone in need locally – doing anything from visiting the elderly to providing practical assistance to those on a low income from food to furniture. The essence of this work is person-to-person contact and spending time with people is our greatest gift and our greatest reward.
Our Springfield group (covering Boreham, Chelmer Village, Springfield and surrounding areas) is made up of about 10 Members with additional helpers joining us to support some of our events. We warmly welcome new members of any faith or none.
Statistics
The Springfield group visited those in need 894 times during 2019!
We sent 17 children to Summer camp or on Holiday (and the younger ones on a day out),
We held 3 Tea Parties for over 70 Elderly guests
We provided Christmas presents to 46 children who might otherwise have gone without.
Alongside hampers and outings in school holidays and support in times of crisis with furniture, white goods, school uniforms and shoes, gas and electric.
We also raised about £500 to support the SVP in Sudan through our Quiz night.
We have recently setup a new much larger group of about 30 new members in Chelmsford who will cover other areas of the City.
For help or to join SVP, in the first instance please contact Jenny on 07796 393131 or email PresidentSpringfield@svp.org.uk
For more information please follow us on Facebook facebook.com/SVPSpringfield or facebook.com/ChelmsfordSVP
National SVP website: www.svp.org.uk