2019 Event – Good Friday – Great News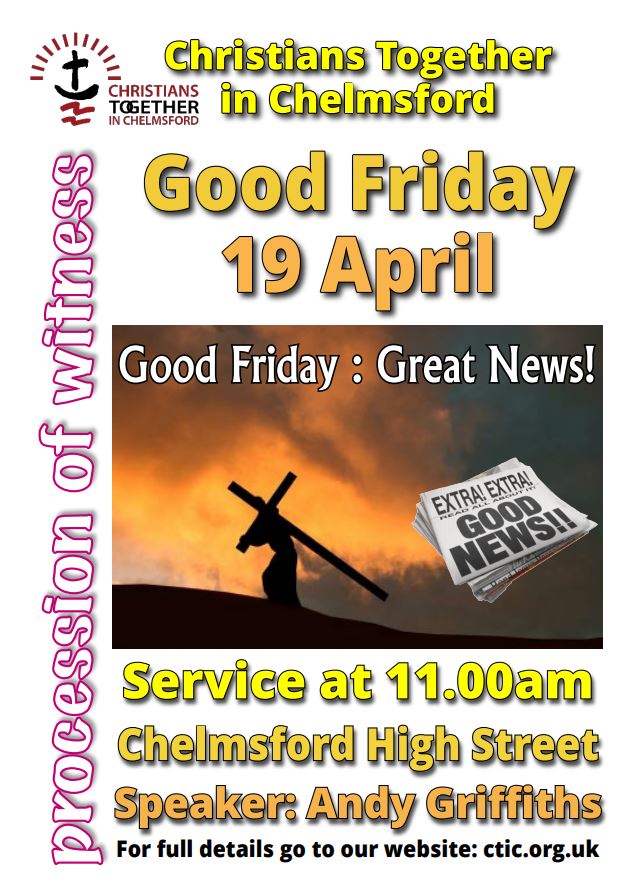 Since the 1980's, CTiC has organised a Good Friday Procession and Service of Witness in the City Centre, involving hundreds of Christians from many of the Churches of Chelmsford. This year, Friday 19th April, was no exception. It was a beautiful warm and sunny day.
Do you have a story from the day? Let us know. (Click here for our Contact Form). Here's one that has already been forwarded to us:
'Had a opportunity to pray for a man who had just got out of prison the day before. He stayed for the service and then I walked with him to central baptist church for refreshments afterwards. Thank you Lord was just able to pray Gods love over him and told him that He has a plan for him. Awesome!'
We have also heard that during conversation after the service, at least one person, a lady made a commitment to follow Jesus. Several people also received prayer for healing.
To read more –  have opportunity to download the text of the message brought by our speaker Andy Griffiths, the Prayers by Sue Gibson, details of Chair, David Gilbey's final remarks and not to mention some photos from the day – click here to go to our dedicated events page.