2019 Event – Good Friday – Great News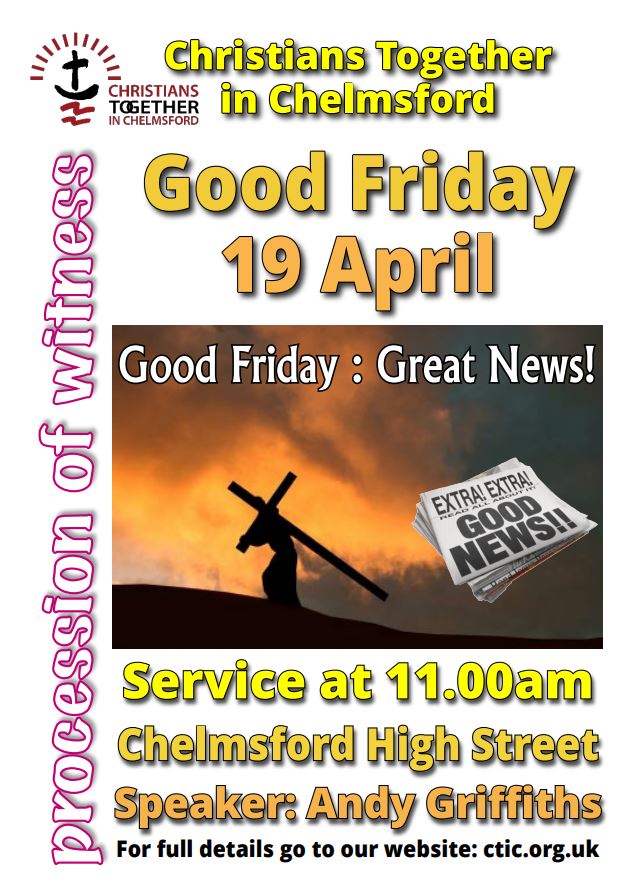 Since the 1980's, CTiC has organised a Good Friday Procession and Service of Witness in the City Centre, involving hundreds of Christians from many of the Churches of Chelmsford. This year, Friday 19th April, was no exception. It was a beautiful warm and sunny day.
Do you have a story from the day? Let us know. (Click here for our Contact Form). Here's one that has already been forwarded to us:
'Had a opportunity to pray for a man who had just got out of prison the day before. He stayed for the service and then I walked with him to central baptist church for refreshments afterwards. Thank you Lord was just able to pray Gods love over him and told him that He has a plan for him. Awesome!'
We have also heard that during conversation after the service, at least one person, a lady made a commitment to follow Jesus. Several people also received prayer for healing.
Processions
Six Processions started at outlying churches in different areas of the City and stopped en-route at various points to pray and praise, whilst others, from different churches join in. The six Processions eventually become three groups, and each, led by one of the participants carrying a large cross arrive in the city centre.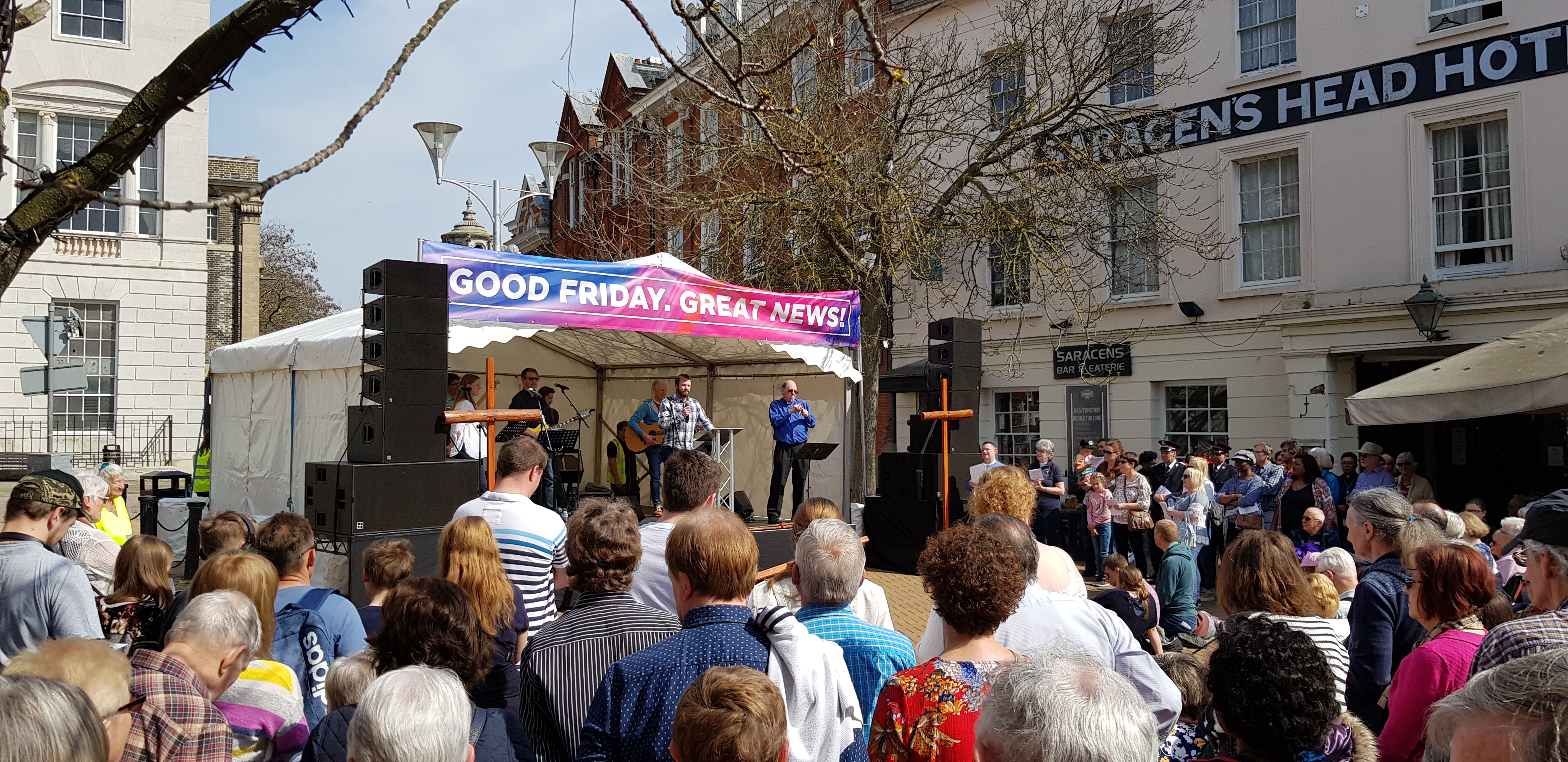 Service
Many also made their own way to the High Street and shortly after the Processions arrived,  at 11 am an hour long evangelistic service started, led by CTiC Vice Chair, Pete Bardwell, with joyful praise and worship led by a group made up from members of Oasis Church, Melbourne and All Saints, Springfield.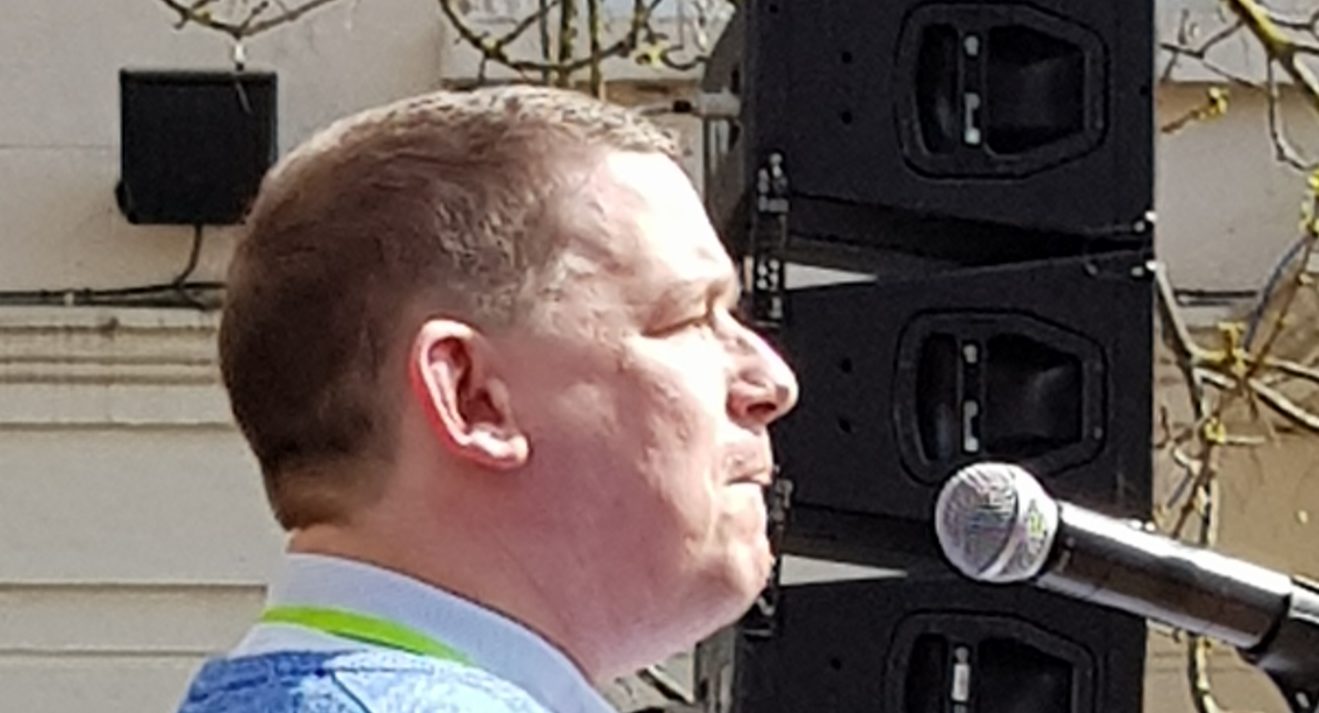 Our theme this year was Good Friday, Great News and five people gave testimony as to how God has dramatically changed their lives – including by miraculous healing. If we are Christians – Followers of Jesus, we each have a story that has impacted our lives and Jesus has told us to tell others.
Speaker
We were delighted that this year, that our speaker was Rev Canon Andy Griffiths, formally vicar at St. Michael's, Galleywood, and currently coordinator of Curate Training and adviser on Continuing Ministerial Development for Chelmsford Diocese. Andy delivered a powerful message as to how our joy and gratitude for the great news of Good Friday should spill out of us and affect all we meet.
Andy's message was based on the words in 1 Thessalonians 5:9-11, 15-18, (NLT translation) and were read out before he spoke by our Mayor and local Christian, Yvonne Spence. 
You can read what Andy said, by clicking here to open a pdf document.
Prayers
Prayers, in the form of declarations and blessings over our City, were spoken by Sue Gibson, CTiC Committee member and Coordinator of Prayer for Our City.
You can read what Sue brought, and we encourage you to continue to use these words in prayer over Chelmsford – click here to open a pdf document.
Final words
CTiC Chair, David Gilbey, brought some final words about Chelmsford's history as a City of communication, through its heritage with Marconi. Chelmsford is known as The Birthplace of Radio. He said that he believed that God wanted to restore that heritage and make Chelmsford a centre for communication of the very good news of the gospel of Jesus Christ, not only to our City but to the nation and nations.
David also spoke about how all this can only be achieved by being 'The Church' together in Chelmsford, not just different churches. We must truly be in unity and true love – 'as one', leaving our traditions and doctrines aside and focussing on what unites us –  Jesus and his finished work on The Cross.
David told of a national prayer event he had organised in 2018 in Coventry, where there was prayer and declaration for the reconciliation of The Church nationally. Those present on that occasion believed a symbolic 'ripple' for unity and love between believers went out to the UK. (Click here to read more about this on the website of Call the Nation to Prayer – ctntp.org).
At the end of the Service in Chelmsford, David declared that as the assembled crowd left and returned to their communities within the city, they would also take a ripple of unity and love for each other and for Jesus with them so as to see our City totally transformed.
You can hear David's message (preceded by a worship song) via a video on Facebook – click here.
Photos
This slideshow requires JavaScript.
---
2018 Event
The Salvation Army Band provided the music and local Christian evangelist Nigel Bolitho, was our speaker. Representatives of Chelmsford 24-7 Prayer provided stewarding and were on hand if anyone had need of prayer.
Here are some photos from last year:
This slideshow requires JavaScript.