2019 Event – Good Friday – Great News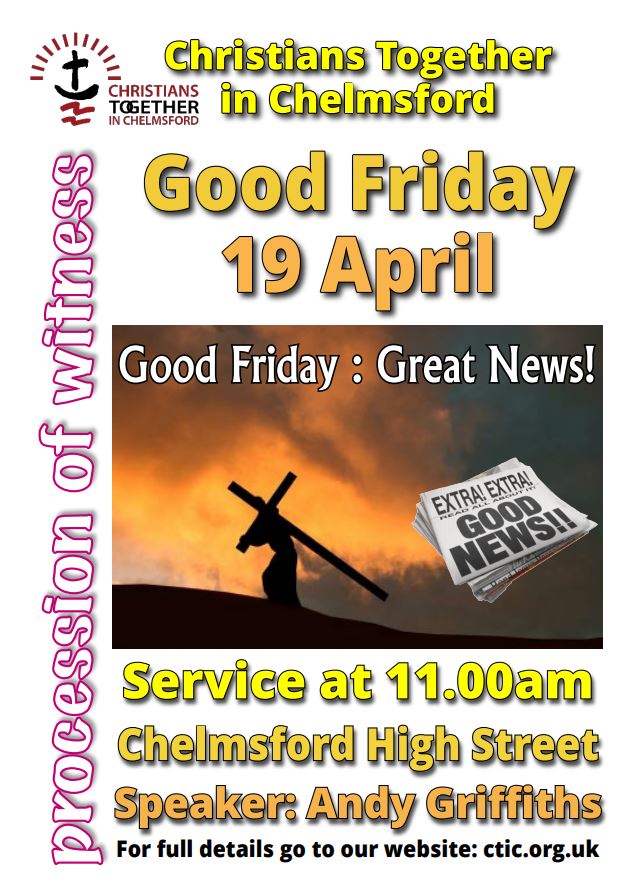 We are currently planning for this year's event, on Friday 19th April, entitled, Good Friday – Great News!
We are putting the finishing touches to arrangements, although the procession and service format will not be dissimilar to previous years.
Full details, including Procession routes and timings, will be published shortly, after our team meeting on Thursday 21st March, so you can become involved in this great annual act of Christian witness to our City.
---
For many years CTiC has organised a Good Friday Procession and Service of Witness in the City Centre, involving hundreds of Christians from many of the Churches of Chelmsford.
There are initially six processions, starting from different outlying estates. There are four stops en-route, mostly at churches where some of these processions join together or further participants join in. During these stops, prayers are said and a hymn/Christian song sung. 
Eventually, three large crosses are paraded into the High Street and everyone meets by the Shire Hall, where a 45 minute evangelistic service, with sung praise and worship takes place. 
The mayor, deputy mayor and also our MP are amongst invited guests from the City. and in 2018, the Salvation Army Band provided the music and local Christian evangelist Nigel Bolitho, was our speaker. Representatives of Chelmsford 24-7 Prayer provided stewarding and were on hand if anyone had need of prayer.
Here are some photos from our 2018 gathering:
This slideshow requires JavaScript.