Saturday 2nd November at Life Church, Hall Street, Chelmsford, Essex, CM2 0HG, arranged by our friends, City Vision and Christians Together in Chelmsford.
Come and enjoy a stimulating day of learning, fellowship, worship, and practical wisdom about cities. Organised by City Vision in partnership with Global Advance and Christians Together in Chelmsford. You'll get unique insights on what God is doing elsewhere.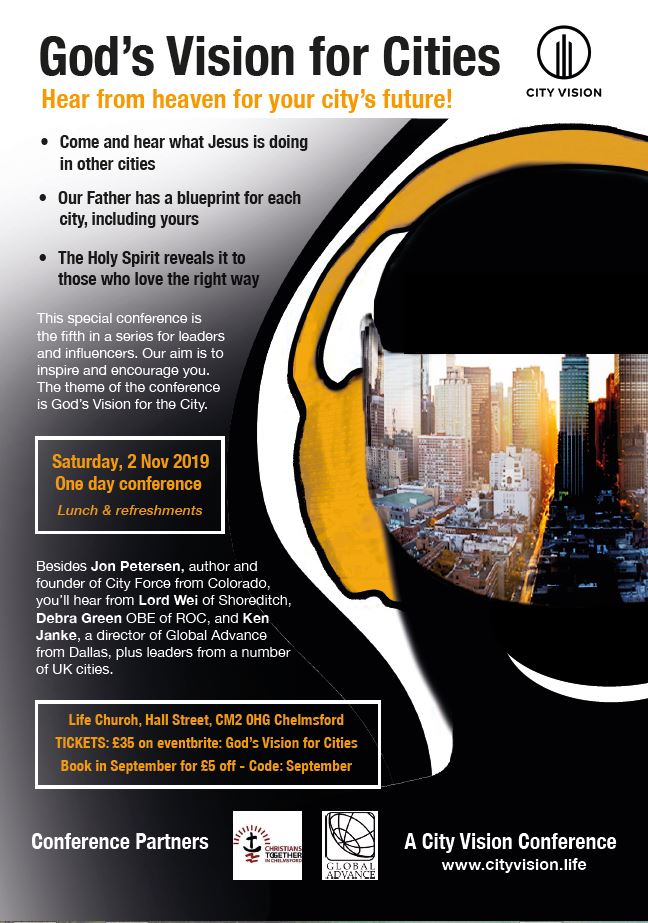 Click here to download the flyer as a pdf
Here is a quick introduction to City Vision and the conference, by City Vision Leader, Tony Hodges.
Ticket price £35. Lunch and refreshments included.
---
What are the signs of the Kingdom coming to a city? Does God have a blueprint for cities?  Is it just 'larger churches' or does it include social transformation? Can the experience of other cities bless yours? Can a wider view inspire new possibilities?
The full programme will be confirmed nearer the time, but will run from 9.30am to 4.30pm, with an evening session, 6.30 to 9 pm.
---
Also, check out this video from the previous City Vision Conference, which took place in Coventry in May.