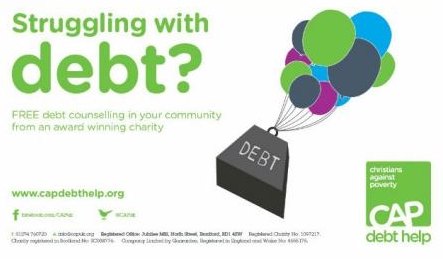 Christians Against Poverty, CAP, is a National Christian Charity that helps people out of debt.
They are there to serve and equip your church to reach out to the poor and hurting of your community.
Several churches in our City run CAP Money Courses to give practical advice to groups of people about managing their finances, but a few years ago Chelmsford also had a CAP Debt Help Centre, that worked with individual clients to take them out of the chains of personal debt.
A new CAP Debt Help Centre for Chelmsford?
For several months, a small group of Christians from several of our Churches have been looking to re-establish a CAP Debt Help Centre here in the City.
A little money has come in for this together with some work on other ways of funding this, but a lead Church/Organisation and a Manager still needs to be identified as well as others who might be interested in being volunteer Debt Counsellors.
Could you or your Church become involved?
Could YOU or your Church potentially help in some way. Contact CTiC and we will pass you details on to the Team who are looking to develop things.