Rev Hugh Dibbens is an amazing man! 80 years old and a priest in the Church of England for 50 years… but he's not slowing down, rather speeding up! 
Apart from still being active as Evangelism Advisor in the Diocese of Chelmsford, Hugh will be 'prayer cycling' a minimum of 800 miles around East London and Essex, to spread the Good News of Jesus and pray for all the Parishes he visits.
The ride will also be sponsored in favour of two Essex Charities, Fellowship Afloat – www.fact.org.uk and Tapestry Care UK (in Havering) – www.tapestry-uk.org.
If you wish, you can contribute via Eventbrite:
Fellowship Afloat: www.justgiving.com/fundraising/hugh-dibbens
Tapestry:  www.justgiving.com/fundraising/hugh-dibbens1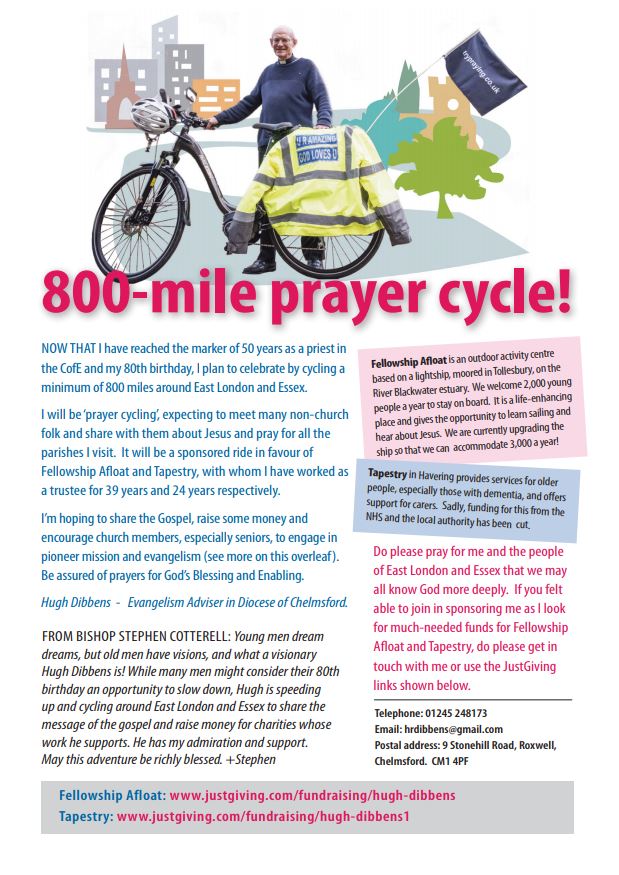 Open the above poster as a pdf file – click here